Why You Should Consider a Smart Home
Why You Should Consider a Smart Home
According to MoneySuperMarket 77% of Brits know what a smart home is, understanding the term "connected home".  It's no surprise since names like Siri and Alexa are being heard in many homes around Britain. A demand to Alexa to change the music playlist, or a question to Siri about the weather forecast.  In addition to these smart assistant devices other connected devices such as smart thermostats, smart lighting systems, Wi-Fi speakers, and smart doorbells are becoming common place. We all know someone who looks to show off their smart home to every new visitor and it makes their home more inviting.
While convenience is a major advantage of a range of connected smart devices, another is heightened security in your home.  Cameras which sensed motion and recorded intruders were once reserved for museums and the super-rich who had expensive canvases on their walls.  But now, responsive high-tech security systems are available to all at a reasonable price providing peace of mind and a proactive approach to warding off intruders.  What type of security-led smart devices are available?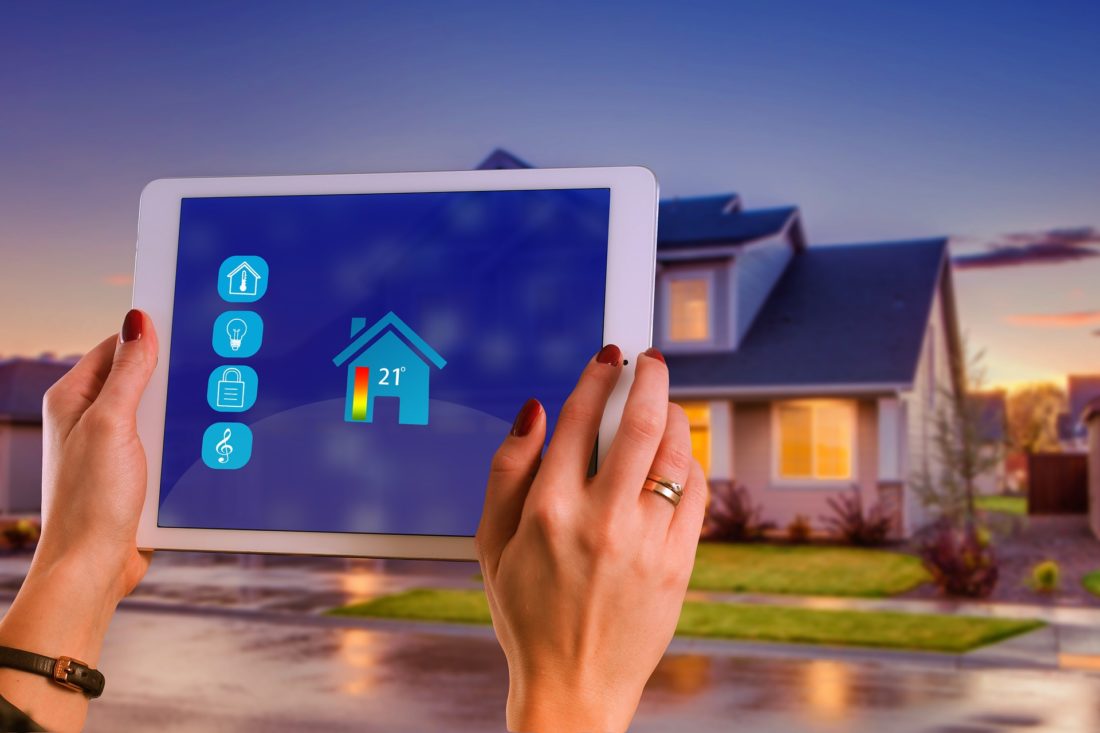 Smart Senors
As part of a connected system smart sensors can trigger lighting, video feed and even noise from Wi-Fi speakers when an intruder walks into their field of sense.  They can be placed outside or inside the property to cover entranceways and vulnerable access points. Priced at as little as £30 per device smart sensors can pull together a very comprehensive security system to cover the boundaries of a property.
Smart Cameras
Like smart sensors, smart cameras are installed around the property in areas vulnerable to break-ins.  When the motion sensor is triggered a live feed of the incident is sent to a smart phone or tablet so that the homeowner can respond to it.  A response might be to call the Police or speak via a smart speaker to the intruder. Or of course if it's just your teenage son or dog, ignore the incident.  Camera footage can be stored as evidence for later as well.
Video Doorbells
A compact package for the home's front door, a video doorbell has a smart camera and sensor installed as well as a Wi-Fi intercom-type system so the homeowner can communicate from anywhere with an Internet connection (yes even from on holiday abroad) with anyone at their front door.  The camera like any other smart camera can trigger a notification to be sent to a smart device. Video footage can be scrolled through via an app later to see who delivered your parcel or who left you that bunch of flowers.
Could a Smart Home Benefit from Cheaper Insurance?
Insurers are certainly responding to calls to lower insurance premiums for homes with connected security devices, as they deter break ins and property damage.  And 58% of Brits said they would buy such devices if it did lower their home insurance premium, so it looks like the trend is set to continue.
Aside from security another technology that can be connected to a smart home is leak detection devices.  They notify you when there is a leak and can also allow you via a smart phone to shut off your water supply.  Installing such a device should reduce the potential of damage to your property and may eventually also lead to a lower insurance premium. A spokesperson for Insure4Retirement pointed out that the Association of British Insurers (ABI) claim that 30% of domestic insurance claims are due to Escape of Water at a cost of £3.9m per day in Britain.  There is certainly an argument that this water leak smart technology is just as important as security devices.