Portuguese Palace, Quite Literally Fit for a King, Is Up for Sale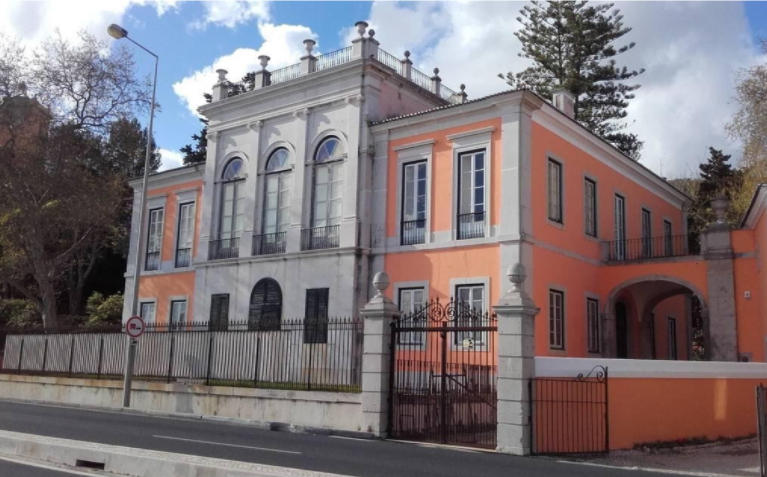 The former summer residence of King Fernando 2nd of Portugal is up for sale for 15,000,000 euros. Situated on the coast at Oeiras, just 15 minutes from the centre of Lisbon, this unique 19th century palace enjoys stunning views over the Tagus River and the Atlantic Ocean. The building was originally commissioned by Tomas Maria Bessone and was completed in 1860 under the direction of the Cinatti Architect of Sienna, which accounts for the building's Italianate traits. The building's main façade faces the River Tagus, and the palace is encircled by magnificent, landscaped gardens, containing plants and trees over a hundred years old, in addition there are patios, terraces and a large parking area. The entire plot is a generous 5,589 square metres.
The palace buildings include garages, stables, staff houses, an independent apartment and a spectacular clock tower, sitting dramatically on a hill. There are forty rooms in total and a built area of 1,616 square metres. The interior is in a sumptuous neoclassical style, with vast light filled spaces. There is a magnificent staircase and grand spacious rooms with dramatic sea views. As befits the palace of a king, the interior decoration is of the highest order: extravagant tiling, ceiling frescoes and marble and stone fireplaces. A 40 square metre roof terrace provides panoramic views over the sea and gardens. The property has its own water supply and is connected to the sea by an underground tunnel.
Historic background
King Fernando 2nd 1816 – 1885
Fernando was a German prince and husband to Queen Maria 2nd. Under Portuguese law he became King in 1837, after the birth of their first son. His reign ended in 1853 with the death of his wife. Intelligent, artistic and with modern, liberal ideas, he became known as the 'Artist King'. His most famous legacy is the restoration of an ancient monastery in Sintra, which he transformed into an extravagant place, which we know today as the Pena Palace.
The locality
Oeiras, which is served by a regular train service, is just 15 minutes from the centre of Lisbon and 10 minutes from the popular resort of Cascais. It is a tranquil, safe area, with two beaches, Praia Nova and Praia Velho, separated by a small harbour filled with fishing boats.  Nearby is the Quinta da Fonte, one of the biggest office parks in Europe and home to companies such as Hewlett Packard and the DLL group. Further north is Parc Oeiras, a shopping complex of 162 outlets and an eleven-screen cinema complex. Nearby Poetas Park is a 25-acre landscaped park with water features and sculptures of twenty famous Portuguese poets.
Development potential
This magnificent property can be enjoyed as a grand family home, but it would also make an impressive ambassadorial residence. The ample grounds and outstanding location also offer the potential to expand the existing building, either as a residential or tourist project.